The MIOPS Flex uses connection cables to control your camera or to trigger your flash unit. Your unit will be shipped with the proper camera and flash connection cables. The MIOPS Flex is a versatile device, which is compatible with many brand and models. You can use the same device with many different cameras by just changing the connection cable.

The MIOPS Flex has separate outputs for the camera and flash cables.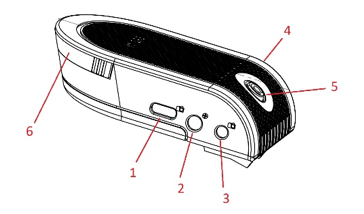 Camera Control Port (USB)
Flash Port
Camera Trigger Port (Shutter)
USB Charging Port
Power Button
Battery Compartment
Power Button: Important Notice: Don't push the Power button of Flex more than 3 seconds. If you do this, Flex will be opened in UPGRADE mode instead of working mode. So, please just push the power button less than 3 seconds.
Camera Control Port: Flex communicates with your camera through USB Camera Control Port (Type C USB). Device comes with the proper camera connection cable. You can connect this cable to the USB port of your camera.
Important Notice: Please make sure you turned off both your camera and your FLEX first and then remove the USB connection cable.

Flash Port: Using this port, Flex can trigger your Flash. Flash triggering especially used in High Speed Photography to freeze the moment in a dark room. Flex comes with a 3.5mm to PC Sync cable to use between Flex and a flash.
The flash cable port is a 3.5 mm mono female jack. There is only one type of the flash connection cable. It has a 3.5 mm male jack on one end. This end is plugged into the flash connection port. The other end of the cable is a standard PC Sync port. This end is connected to the PC Sync port of the flash unit. If your flash does not have a PC Sync port, you can use an hot shoe adapter with a PC Sync port.


Camera Trigger Port: This port of Flex is used to connect your Flex to the remote triggering port of your camera (some cameras don't have this port). You may need this connection for only Lightning mode if you see that lightning capturing is not fast as you expected through USB port triggering.

The Camera Trigger Port is a 2.5 mm stereo female jack. The camera trigger cables have the male 2.5 mm stereo jack on one end. This end is plugged into the camera connection port. The other end changes depending on the camera make and model. This end is plugged in the shutter release port of your camera. (Camera trigger cables are sold separately. If you need one of them, you can visit: https://www.miops.com/collections/accessories/products/camera-cable)

The camera and flash cables are designed to control/trigger the cameras and flash units only. Do not use them for any other purpose. Doing so may damage the cable or the device.