The HDR mode will take photos with different exposures automatically, so you can later combine them to make an HDR photo. This mode is based on three parameters. These are Center, EV(+-) and Frame. HDR mode takes pictures in odd numbers (3, 5, 7 and 9). The photo in the middle of the sequence (respectively 2nd, 3rd, and 4th) will have the center exposure value. The other photos will have changing exposures starting from the lower end up to the higher end. The other exposure values are calculated with the number of stops between each frame per the total frame number.
Important Notice: Please set your camera to Manual Mode.


HDR Parameters
Center: This parameter shows the exposure value that will sit in the middle of the sequence.
EV(+-): This parameter shows how many stops each change will be.
Frame: This parameter shows how many photos are to be taken for an HDR photo.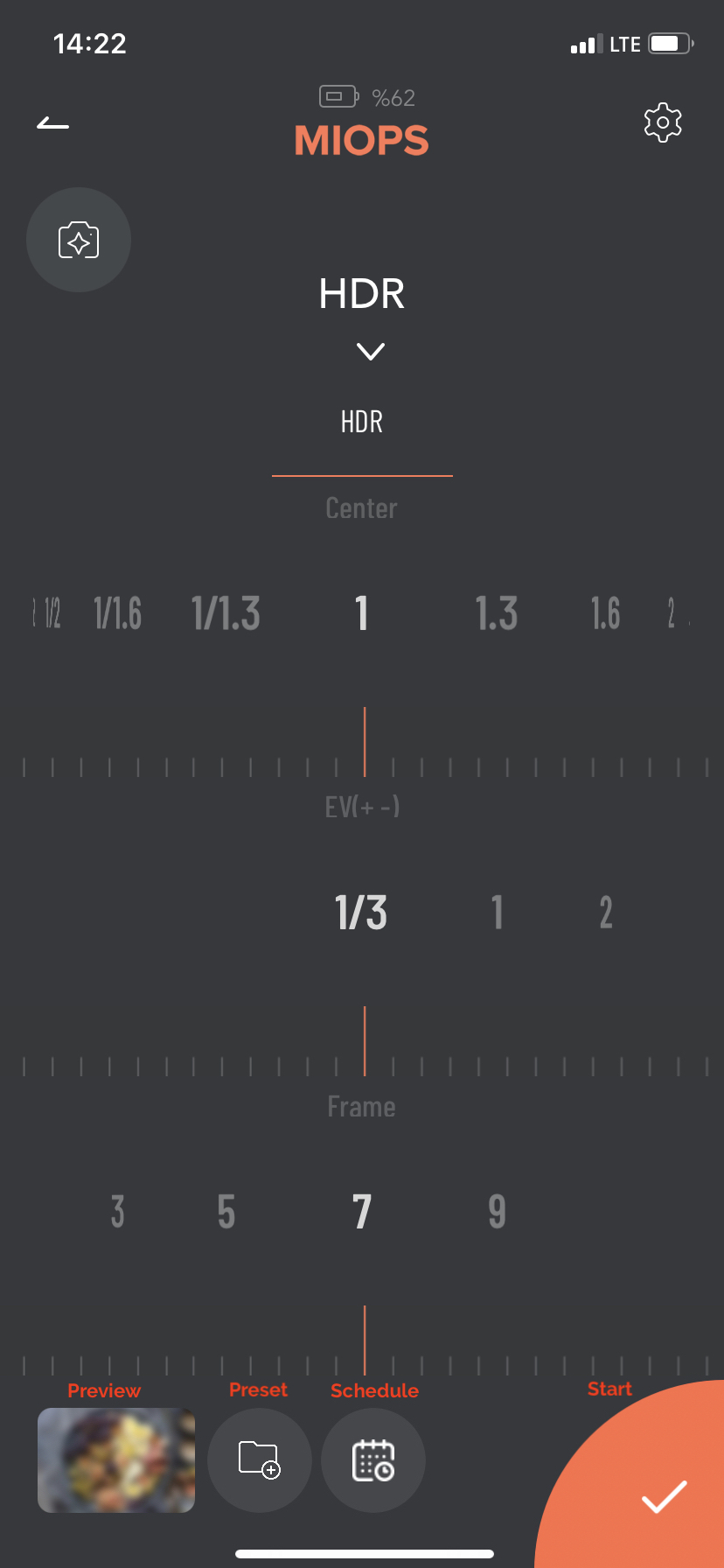 Preview: Goes to Timelapse gallery. You can view the photos taken in timelapse sessions.
Preset: You can save your settings by touching Preset button by entering a preset name.
Start: Start the mode.
Schedule: You can schedule your timelapse setup for a certain date&time using this screen.
Once you set the parameters and press start button, a status screen will be opened as below.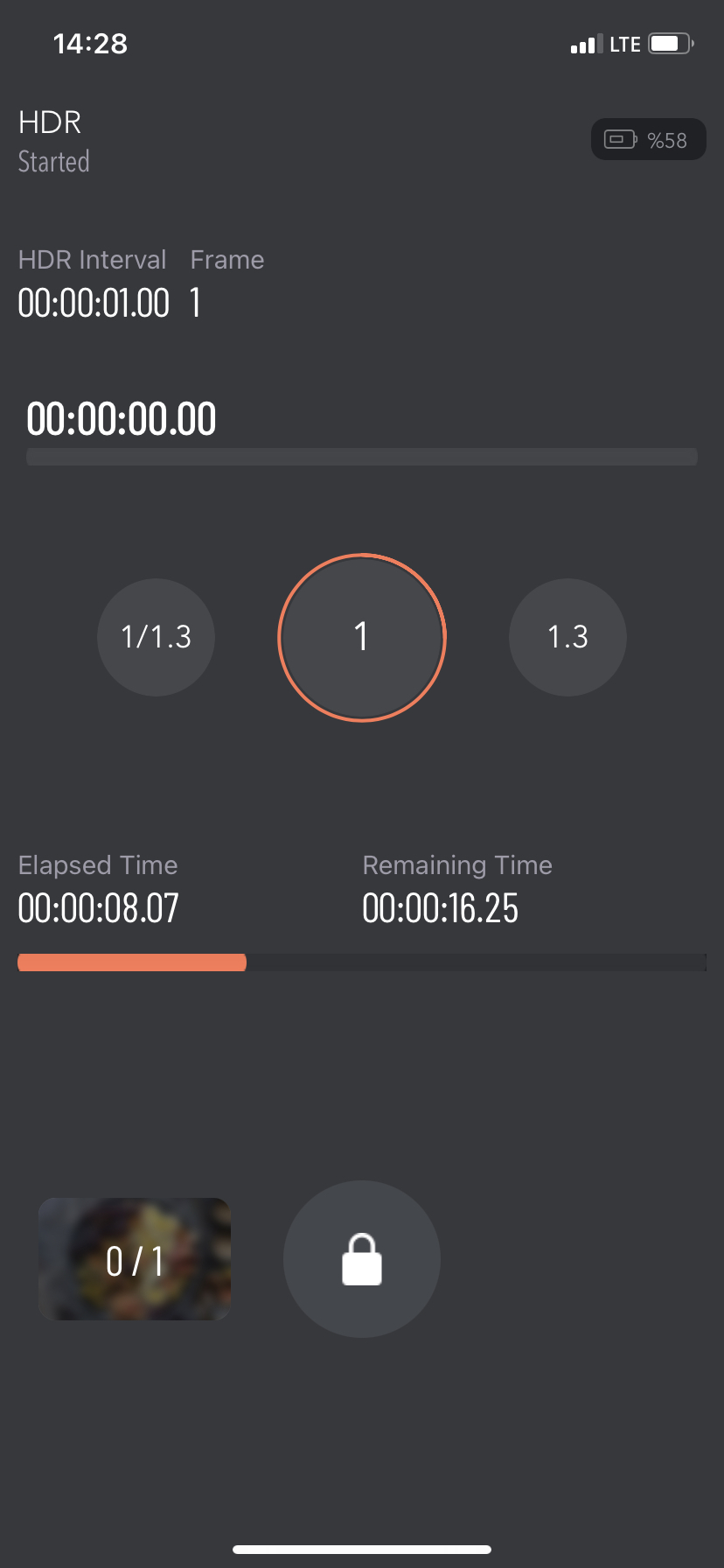 HDR Stitching
After HDR shooting is completed, you can access the HDR photos taken by pressing the Preview icon in the lower left corner.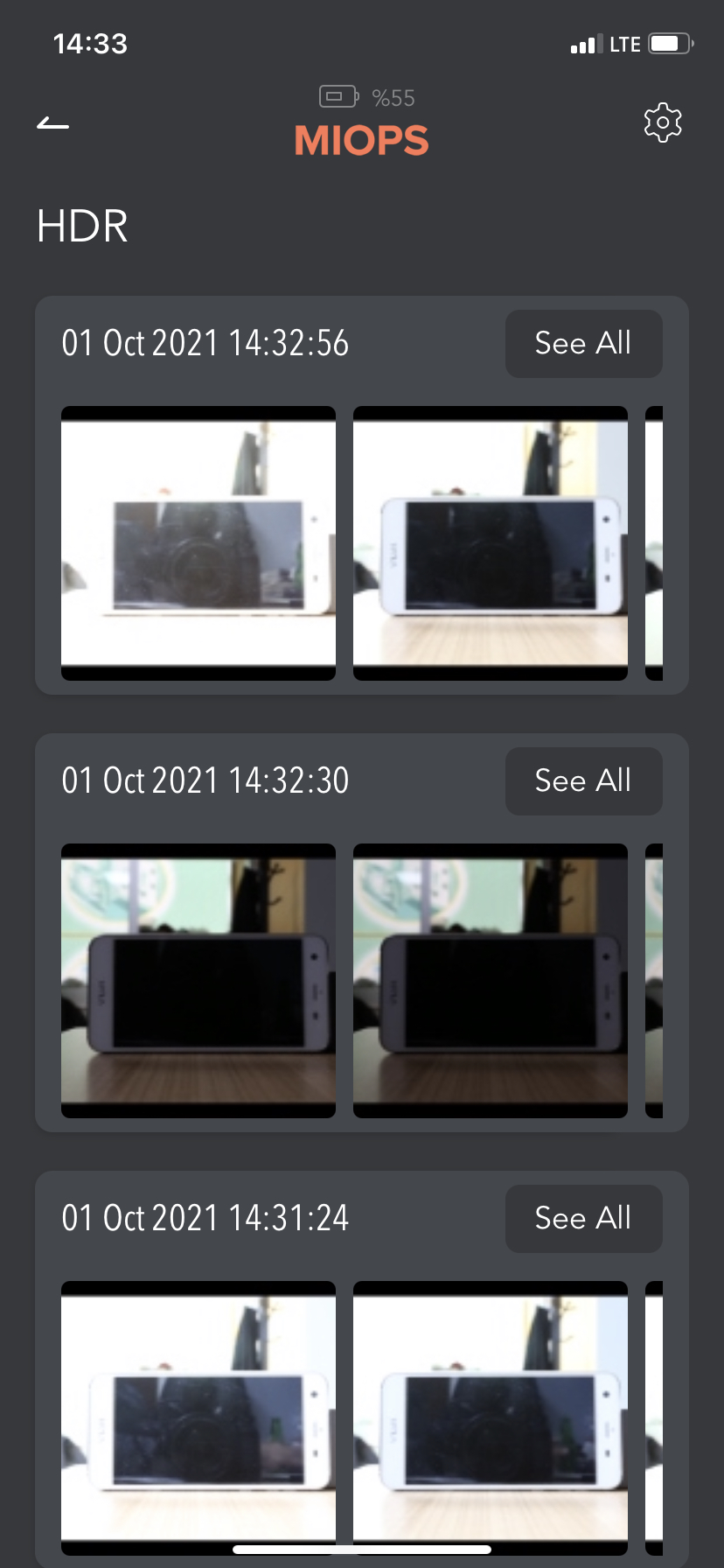 When HDR Gallery is opened on the screen, you can see the HDR sessions. If you touch the See All button for any HDR session, you will see the HDR photos related to that session.
While you are seeing the HDR photos for any session, you can touch the Stitch button in the upper right corner. Now, you can select the photos you want to stitch and click on the Done icon in the lower right corner. Creating Preview process will begin and you will see the stitched HDR photo at the top screen after a while.
Please note that photos needs to be transferred to Mobile app to be stitched and transfer duration will change according to camera, size of photos and wifi quality. Please find and example Flex transfer speeds below.


FLEX Transfer Speed Specs
Camera to Flex (USB)
Photo size: 15MB
Duration: 4 sec
Speed: 3.75 MB/s (changes between 3 - 20MB/s)
Flex to Mobile App (Wifi) (Transfer speed will vary with Wifi Quality, interference and distance)
Photo size: 15MB
Duration: 4 sec
Speed: 3.75 MB/s (changes between 3.5 - 5MB/s)